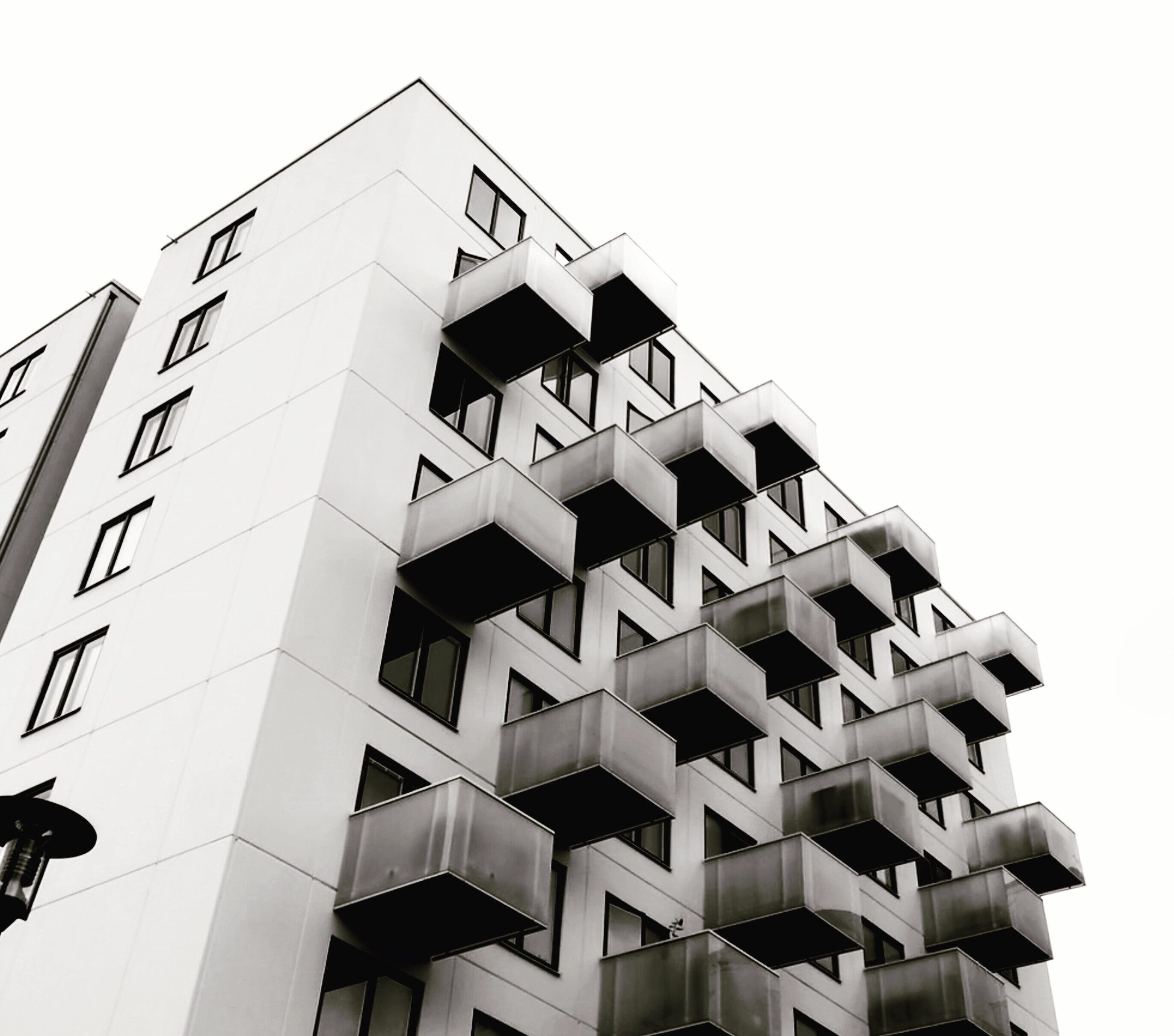 We make better future happen
for people and businesses
The Social Few is a leading diversity growth agency in the Nordics. We enable sustainable growth combining data-driven insights, inclusive infrastructures, marketing communications, and tech.  
We also believe that impact is made by inclusion through direct dialogues. With a blend of data-driven and a social-first approach, we reach and activate the largest minority groups enabling direct dialogues with fast-growing communities - from both a population and a consumer perspective.
With this, we aspire to future-proof organizations by increasing your perspective density - the number of different perspectives in the same context, whether it's at a workplace or in whom we activate with inclusive communications efforts.
They say the impact is difficult to achieve. We beg to differ.
Inclusion by
data-driven impact

Cultural minorities represent about 25 percent of the total population in the Nordics, and as a group with a purchasing power of more than 400 billion SEK annually in Sweden only. Insights are key to create efficient inclusion.
Therefore we've developed an inclusive and effective marketing tool and a way of a working model named inclusive infrastructure - in which we make sure to include an inclusive approach with measurable methods throughout the whole organization. We aim to make the largest impact possible within your ambition, time and budget. 
We are the only agency providing the most accurate and relevant quantitative insights done by, for and about minority groups in the Nordics. 
Our inclusive model works best when two or more modules are combined and activated, such as Talent Acquisition and HR or Marketing and Business development, etc.
An organization with an implemented inclusive infrastructure is a future-proofed one with pleased co-workers, efficient marketing efforts and measurable impacts.
We offer services within inclusive insights, talent acquisition, human resources, internal communication, business development, marketing & communication, and impact measurements.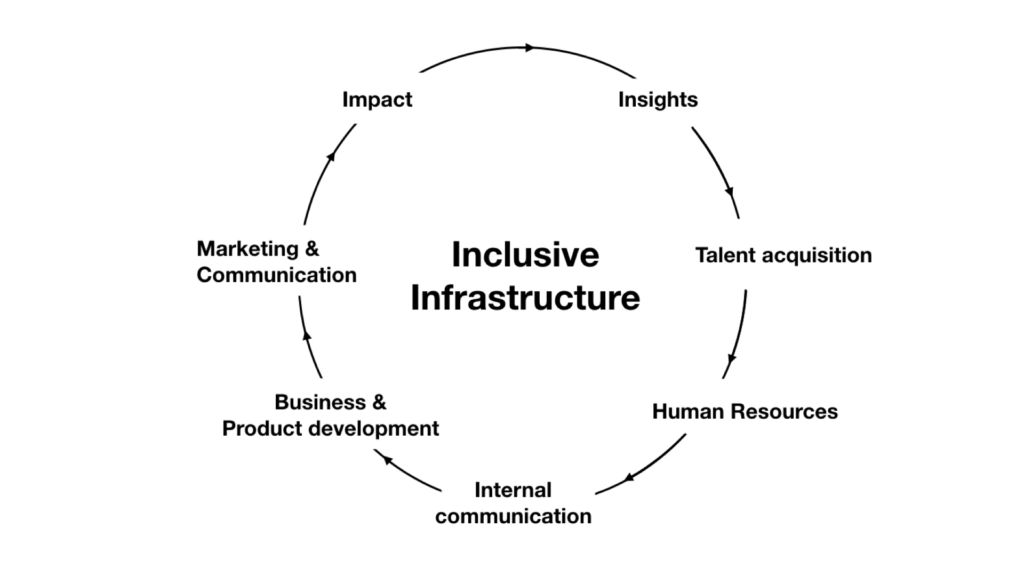 No matter what modules you need to optimize within the inclusive infrastructure model, we always start our collaboration with collecting and analyzing relevant data that are synthesized to relevant cultural insights such as:
• Quantitative surveys and dialogues in several languages targeting the six largest minority groups in the Nordics.* 
• Brand and consumer insights
Insights on what minority groups think about your brand, both from a consumer and employer brand perspective.
• Business insights
Insights that are of value to your business development and sales.
• Diversity insights
Insights on the perspectives (diversity) you have within your organization - usually starting ground for your work with creating an inclusive infrastructure.
• Insights - recruitment process
We create and send a pulse through your entire process, from strategy around advertising to employment - with the aim of identifying bottlenecks and areas for improvements.
• Exploratory data analysis (EDA, ETL, full-stack). Visualizations are presented in Power-BI. 
*The core of insights is based on our quantitative surveys and dialogues in native language with the six largest minority groups in the Nordics, eg. Arabic, Persian, Somali-speaking, etc. 
The surveys are performed according to industry standards in a sustainable manner. Surveys are a minimum 95% confidence with a 5% error margin. We are a GDPR-compliant company. 
With insights, we help you develop new and efficient ways of working within any of the other six modules below.
Successful talent accusations efforts require staying ahead in what competence you'll need the coming years. For that, you'll need relevant insights and inclusive tools in order to create efficient ways of finding talent.
Insights you need to set your strategies

KPI's on both a macro and micro level

Strategies - how to move forward in an agile way allowing you to test and optimize your way of working along the journey

Actions - We help you execute the activities needed with measurable methods based on your strategies

Impact measurement - we constantly measure the success of the efforts in order to iterate and optimize.
Human Resources is the heart of an organization which is exactly why it needs extra attention. We make sure you have the insights, knowledge, and tools needed in order to secure an inclusive and sustainable organization.
Leadership training - we know that inclusive leadership is key to innovation.

Employer branding - working closely with talent acquisition, we make sure your company is visible in a relevant manner in places and communities, with the purpose of increasing perspective density.

Culture planning - Mapping, strategy, and actions.

KPI's - D&I life cycle - We help you set relevant goals and tools to follow up on them.
Inclusive internal communications lead to a higher level of sense of belonging among the co-workers which then leads to higher engagement and productivity.
Tone of voice

Internal communication strategies

Internal implementations

KPI's and digital impact measurements. 
Business & Product Development
We help you get the right insights in order to develop new business and products for fast-growing communities - minority groups in the Nordics. 
Insights - qualitative and quantitative

Product/market fit 

Testing: alfa, beta and launch

KPI's and impact measurements. 
Marketing & Communication
Lack of deeper insights from most public organizations, communicators, and advertisers has resulted in overlooking large cultural target groups with great potential. 

Through data-driven insights and smart cultural segmentation and active dialogues, we can reach and engage up to 98 percent of the six largest minority groups through social media channels such as Facebook and Instagram.
We back up our numbers with up to 20 times higher CTR than industry median according to Adstage benchmark reports. We are the only agency in the Nordics with these abilities.  
KPI's
What goals do you need to achieve, e.g., create the talent flow you will need to move forward.
Inclusive segmentations
We help you find cultural target groups you want to create dialogues with by making inclusive and value-based segmentation before communication or marketing efforts.
Inclusive strategies
Together with you, we set strategies based on the target groups and segments we want to reach and the KPIs we want to achieve.
Inclusive campaigns
Based on data-driven insights, we create and launch inclusive and digital cross-cultural campaigns on social media with a focus on unique reach, conversion, and actual impact among the six largest minority groups in the Nordics.
Inclusive Impact data helps companies and governmental institutions understand their customers and people. As a result, develop dialogues, products, and services better tailored to their needs. 
Impact data improves operational areas ranging from HR to sales. A deeper understanding of minorities and customers will also help to create more effective marketing campaigns.
We help you measure and analyze the impact you've made from both previous efforts and the efforts we do together.  Iterating and optimizing actual impacts made for both the target group and the bottom line is crucial for any successful organization. 
Learnings from digital activities or social campaigns 

Optimizations for future strategies and activations 

Personal visualizations with Power-BI.
Exploratory data analysis of your key data (EDA)  
We start by collecting relevant data through a direct dialogue with target groups.
The data is then refined into relevant insights personalized for our clients.
Based on data-driven insights we help you develop highly effective digital strategies that's geared towards the bottom line - making an impact!
We deliver an output based on what we know is asked for and relevant to minority groups in the Nordics.
Everything we do together is measurable. We always deliver impact data for future iterations.
Share your challenge and meet us for a consultation by
choosing an available date and time in the calendar.
Don't like to wait? Chat with us directly say hi through hello@thesocialfew.com
You can also come by for fresh coffee and insights at WeWork, Regeringsgatan 29 in Stockholm. Welcome!
Subscribe to
inclusive insights

Please enter a valid email address.
Something went wrong. Please check your entries and try again.